Our work during "Winter" week:
The very first area that Logan explored on our first day of school was the dress-up basket. He quickly found a winter hat to put on then got to work with the other lessons. Here is cutting snow (a.k.a. paper strips) with his cutting basket.
He did some good pouring work with our dry pouring tray! He poured white and glass pebbles to go along with our "Winter" week.
We painted some snow with our Art Tray! He preferred using the cotton balls over the cotton swabs.
We played lots with our Snowman Sensory Bin! Counting snowflakes, Icicles, stacking buttons, and shoveling the snowballs.
I gave Logan lots of sled rides in the house and Logan then gave some to Lion!
Then we worked with our Build-A-Snowman Basket!
Then it was time for a little Gross Motor Play! We raced down a few of the sled ornaments from our Snowman Sensory Bin!
After that we had to take a break and of course pop some popcorn!
After Nap and Lunch he relaxed on the couch shaking and watching his Snow Bottle! We took about an hour to sit down and read some of his "Winter" books.
Logan also worked with his Pink Tower for the first time, then promptly knocked it down. Something I'm trying to discourage.
Then we did some fine motor skill work with our Lacing Beads!
Early in the week the weather cooperated and we actually got a little snow, enough to go out and use our shovel anyways!
Then later in the day we bundled up went sledding for real, slid on the ice, found some icicles, and painted the snow with a spray bottle, water and food coloring. Anytime we did anything outside I would ask him "What do we need to put on before we go outside in the winter?" He would then run and get his hat and we would put it on, then I would ask him "What else do we need?" Then he would get his mittens, his coat, his boots etc. We play this game now every time we go outside.
The next day we started off working with Cylinder Block #1. Logan discovered that the smallest peg on the block also fit into the hole of his lacing beads. He made this discovering all by himself and has been showing us all week.
We discovered  the winter fruit the Pomegranate and learned how to get the seeds out of the pulp using the water method! They were quite tasty!
We read quite a few books about hibernation and Logan showed alot of interest in this. So we made our own cave with his table and blankets and he grabbed his Bear and we played Hibernation. We popped some popcorn to fill up on first as our winter food just like the Bears do, then I shook our Snow Bottle and told Logan that Winter was coming so it's time to Hibernate. He would then crawl under the table and pretend to sleep. We had lots of fun and played this for a least an hour before he tired of it!
Later on in the afternoon we went on a winter hike at a local forest preserve. We practiced examining nature with our magnifying glass, saw animal tracks, look for winter trees, observed the frozen creek,
and although we didn't see any Bears (there are no Bears in Illinois) we did see a BEAVER!
On another day we played with our Snow Dough! My favorite go to recipe came from the Counting Coconuts Blog, this is seriously the best play dough recipe I have ever tried. I left ours white and then kneaded in some light blue glitter (it's what I had) when it was cool. I put one of our pine tree clippings out on the tray as a tree prop and few forest animals. Before playing with this we read the book "Tracks in the Snow" and then used our animals to make tracks in our Snow Dough.
After awhile he brought the Snow Bottle over and lined the animals up to watch it snow.
Of course you can't play with Snow Dough without a Snow Hat.
During our play Logan grabbed the red hat from the dressing basket and started putting the animals inside of it, recreating the story of the The Mitten that we had read the previous day.
I also introduced our new Bird Seed container at the Nature Table!
We filled up or Bird Feeder. Our seed mix is suppose to attract Cardinals, Bluejays and Sparrows. Thus far we've only seen a few Sparrows!
We also made a special bird treat with a cardboard circle, birdseed and peanut butter.
On this day Logan worked hard on his Snowflake Counting Mats!
There was lots of Dramatic Play as well! Here Logan is pretending to scrape ice off of his sled with the ice scrapper!
and one of our all-time favorite games was to make a giant snow with pillows and blankets and then ride down it with our sled. Notice the snow outfit complete with three scarves and a snow shovel. That was Logan's idea!
At the end of the week we ended our "Winter" week by taking a going ice skating at the local Ice Rink! This was Logan's first time skating and only mom's second! It's amazing that neither of us fell!
At first Logan needed help even walking in them, but after awhile he got the hang of walking around off the ice in his skates on his own.
I of course held Logan up on the ice most of the time. After our second go around though he started to get the hang of step…slide, step….slide!
That was our first week of preschool and our week of "Winter"!
This post is part of Montessori Monday for other great Montessori ideas please check out Living Montessori Now.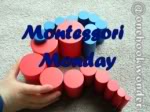 &n